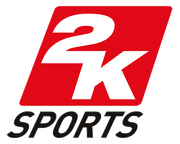 2K Sports is a
subsidiary
of
Take-Two Interactive
Software, Inc. 2K Sports currently makes
NBA 2K (series)
series, MLB 2K series, NHL 2K series and more.
NBA Basketball Games Published
2K video games
Game
Release
Platforms
Cover Athlete
NBA 2K11
October 5, 2010
Windows, PS2, PS3, XBOX 360
Michael Jordan
NBA 2K12
October 4, 2011
Windows, PS3, XBOX 360
Note: 3 diffrent cover types:
choice 1 - Michael Jordan
choice 2 - Larry Bird
choice 3 - Magic Johnson
NBA 2K13
October 2, 2012
Windows, PS3, XBOX 360
Blake Griffin ,
Kevin Durant,
and Derrick Rose
NBA 2K14
October 1, 2013
Windows, PS3, XBOX 360
LeBron James
External links
Ad blocker interference detected!
Wikia is a free-to-use site that makes money from advertising. We have a modified experience for viewers using ad blockers

Wikia is not accessible if you've made further modifications. Remove the custom ad blocker rule(s) and the page will load as expected.