Blaze the Trail Cat is the official mascot of the Portland Trail Blazers of the National Basketball Association.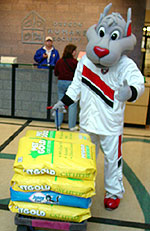 History
The Trail Blazers introduced Blaze as their first mascot in 2002, giving him the fictional back story that he was a "unique mountain lion species" born in the Oregon Cascades.[1] According to the fictional biography, Blaze then came to Portland where he ended up at the Oregon Humane Society and was adopted for the Blazers by then-superstar Scottie Pippen.[2]
Description
Blaze's costume is a stylized mountain lion character with red flames for ears and a crooked tail with a flame at its tip. The lion's fur is white and silver and he wears various Blazers uniform styles.
References
External links
Ad blocker interference detected!
Wikia is a free-to-use site that makes money from advertising. We have a modified experience for viewers using ad blockers

Wikia is not accessible if you've made further modifications. Remove the custom ad blocker rule(s) and the page will load as expected.