NBA Development League
Talk

0
3,280pages on
this wiki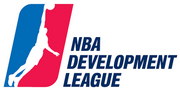 The
NBA Development League
, or
D-League
, is the
National Basketball Association
's officially sponsored and operated developmental
basketball
organization. Known until summer 2005 as the
National Basketball Development League
(
NBDL
), the D-League started with eight teams in the fall of 2001. In March 2005, NBA commissioner
David Stern
announced a plan to expand the D-League to fifteen teams and develop it into a true
minor league
farm system
, with two NBA teams sharing each D-League team. In 2007-08, the league had 14 teams, with each D-League team being affiliated with 1 or 2 NBA teams. For the 2008-09 season, the league will have 16 teams.
The league began play as the NBDL in the 2001-2002 season; the original eight franchises were all located in the southeastern United States (specifically in Virginia, North Carolina, South Carolina, Alabama, and Georgia). Some of these teams were purchased by private owners and relocated — at the same time the league's name was changed — in the summer of 2005, in a bid to appeal to more fans nationwide. As a result, franchises were established in or moved to Texas, New Mexico, Arkansas, Florida and Oklahoma. In February 2006, the D-League expanded to California for the first time with the addition of the Bakersfield Jam. Two months later, the league announced that four teams from the Continental Basketball Association were joining the league: the Dakota Wizards, Sioux Falls Skyforce, Idaho Stampede, and a team originally slated for CBA expansion, the Colorado 14ers.[1][2] A few days after that, the league announced that Anaheim, California, would be getting a team.[3] One week after that, they announced that the Los Angeles Lakers have purchased a team, making them the first NBA team to own a D-League team.[4] The westward expansion and box office struggles have led to the closing of the NBA-owned Roanoke Dazzle[5] and Fayetteville Patriots.[6] The Florida Flame have suspended operations due to arena scheduling difficulties. [7] Today, no D-League teams remain in the NBDL's original Southeastern footprint.
Successful NBA call-ups
Edit
Many former NBA draftees, waived players and undrafted players have played in the NBA D-League. Some of the NBA D-League players that have gone on to successful NBA careers include Rafer Alston, Chris Andersen, Kelenna Azubuike, Matt Barnes, Brandon Bass, Andray Blatche, Devin Brown, Matt Carroll, Jordan Farmar, Chuck Hayes, Anthony Johnson, C.J. Miles, Jamario Moon, Mikki Moore, Bobby Simmons, Jose Juan Barea, Ime Udoka, C.J. Watson, Martell Webster.
Currently, there are only 2 players with D-League experience who won an NBA title, Devin Brown with San Antonio Spurs in 2004-05 season and Gabe Pruitt with Boston Celtics in 2007-08 season.
In 2008 NBA Draft, Portland Trail Blazers drafted Mike Taylor from Idaho Stampede. He became the first player from the NBA D-League to be drafted by an NBA team. He was subsequently traded and signed a rookie contract with Los Angeles Clippers.[8]
35 former NBA D-League players were on the 2006-07 NBA opening day roster. The number increased into 44 players on 2007-08 and then 60 players on 2008-09 NBA season.[9]
Special events
Edit
The NBA Development League held its first all-star game February 17, 2007 at the Mandalay Bay Resort and Casino in Las Vegas, Nevada. It was part of the NBA All-Star Weekend in Las Vegas. As with the NBA's showcase game, a fan vote determined the starting lineup for each team. The East won 114 to 100, with Pops Mensah-Bonsu named the game's MVP.[10]
The second game was on February 16, 2008 at the Ernest N. Morial Convention Center in New Orleans, Louisiana. The Blue team beat the Red team, 117-99 and Jeremy Richardson was the MVP. In addition to the NBA D-League All-Star Game, the league debuted its DREAM FACTORY FRIDAY NIGHT events - which included a three-point competition, a slam dunk contest and a game of H.O.R.S.E.[11]
The league also stages an annual NBA D-League Showcase in which all of the league's teams play each other in a "carnival" format. In 2007, it took place on January 15-17 in Sioux Falls, South Dakota. In 2008, it took place on January 14-17 in Boise, Idaho. In 2009, it will take place January 5-8 in Orem, Utah.
Player allocations
Edit
Players for D-League teams do not sign contracts with the individual teams, but with the league itself. D-League team rosters consist of a total of 12 players, 10 (or fewer) being D-League players and 2 (or more) NBA players. The rosters are made up in a number of ways - the previous years' players, players taken in the D-League draft, allocation players (meaning players who are assigned to a team with which they have a local connection, such as a University of Texas player being assigned to the Austin Toros), NBA team assignments, and local tryouts. Each NBA team can assign two first or second year players to its affiliated D-League team. If more than two NBA players are assigned to a team, the team must reduce the number of D-League players to keep the total roster size to 12. Each team also has local tryouts, and one player from the tryouts is assigned to the team. The minimum age to play in the NBDL is 18,[12] unlike the NBA which requires players to be 19 years old and one year out of high school in order to sign an NBA contract or be eligible for the draft.
NBA teams can call up players as many times as they choose, but a player can only be assigned to the NBA D-League three times in a season.[13]
Current teams
Edit
NBA Development League
Eastern Division
Team
City
NBA Affiliates
Canton Charge
Canton, Ohio
Cleveland Cavaliers
Delaware 87ers
Newark, Delaware
Philadelphia 76ers
Erie Bayhawks
Erie, Pennsylvania
New York Knicks
Fort Wayne Mad Ants
Fort Wayne, Indiana
Charlotte Bobcats, Detroit Pistons, Indiana Pacers, Milwaukee Bucks
Maine Red Claws
Portland, Maine
Boston Celtics
Springfield Armor
Springfield, Massachusetts
Brooklyn Nets
Central Division
Team
City
NBA Affiliates
Austin Toros
Cedar Park, Texas
San Antonio Spurs
Iowa Energy
Des Moines, Iowa
Chicago Bulls, Denver Nuggets, New Orleans Pelicans, Washington Wizards
Rio Grande Valley Vipers
Hidalgo, Texas
Houston Rockets
Sioux Falls Skyforce
Sioux Falls, South Dakota
Miami Heat, Minnesota Timberwolves, Orlando Magic
Texas Legends
Frisco, Texas
Dallas Mavericks
Tulsa 66ers
Bixby, Oklahoma
Oklahoma City Thunder
Western Division
Team
City
NBA Affiliates
Bakersfield Jam
Bakersfield, California
Atlanta Hawks, Los Angeles Clippers, Phoenix Suns, Toronto Raptors
Idaho Stampede
Boise, Idaho
Portland Trail Blazers
Los Angeles D-Fenders
El Segundo, California
Los Angeles Lakers
Reno Bighorns
Reno, Nevada
Memphis Grizzlies, Sacramento Kings, Utah Jazz
Santa Cruz Warriors
Santa Cruz, California
Golden State Warriors
Future expansion
Edit
The league has targeted the Dallas suburb of Frisco, Texas for a potential expansion location, for the 2009-10 season.[15] The Toronto Raptors are engaged in discussions to bring a D-League team to Southern Ontario by 2009-10,[16] most likely to Hamilton, but Oshawa remains a possibility.[17] Palm Springs, California is also being considered as an expansion site.
Two groups are vying for affiliation with the Boston Celtics. The Portland City Council has agreed to lease the Portland Exposition Building to a group of investors that wants to bring an NBA Development League team to Maine's largest city.[18] In addition to this group the Manchester Millrats, of the American Basketball Association, formed with a long-term goal of joining the D-League, have opened preliminary talks with the NBA about a partnership with the Boston Celtics and playing at the Verizon Wireless Arena in Manchester, New Hampshire.[19] The owner of the Halifax Rainmen is currently pursuing ownership of a D-League team in Halifax, Nova Scotia.[20] Other possibilities in the East for D-League teams include Toledo, Ohio[21]; Harlem, New York; Youngstown, Ohio; and Trenton, New Jersey.[22]
Inactive teams
Edit
| | | | |
| --- | --- | --- | --- |
| Team | City | Active Year(s) | NBA Affiliates |
| Arkansas RimRockers | Little Rock, Arkansas | 2004-2007 | Atlanta Hawks, Memphis Grizzlies, Miami Heat |
| Florida Flame | Fort Myers, Florida | 2001-2006 | Miami Heat ("local" affiliate), Orlando Magic ("local" affiliate), Minnesota Timberwolves, Boston Celtics |
| Fort Worth Flyers | Fort Worth, Texas | 2005-2007 | Dallas Mavericks ("local" affiliate), Charlotte Bobcats, Philadelphia 76ers |
Defunct teams
Edit
| | | | | |
| --- | --- | --- | --- | --- |
| Team | City | Active Year(s) | NBA Affiliates | Notes |
| Asheville Altitude | Asheville, North Carolina | 2001-2005 | N/A | moved to Tulsa, Oklahoma |
| (North) Charleston Lowgators | Charleston, South Carolina | 2001-2004 | Miami Heat ("local" affiliate), Orlando Magic ("local" affiliate), Minnesota Timberwolves, Boston Celtics, | moved to South Fort Myers, Florida |
| Columbus Riverdragons | Columbus, Georgia | 2001-2005 | San Antonio Spurs | moved to Austin, Texas |
| Fayetteville Patriots | Fayetteville, North Carolina | 2001-2006 | Charlotte Bobcats ("local" affiliate), Detroit Pistons, New York Knicks | Folded by league |
| Greenville Groove | Greenville, South Carolina | 2001-2003 | None | Folded by league |
| Huntsville Flight | Huntsville, Alabama | 2001-2005 | Dallas Mavericks, Miami Heat | moved to Albuquerque, New Mexico |
| Mobile Revelers | Mobile, Alabama | 2001-2003 | None | Folded by league |
| Roanoke Dazzle | Roanoke, Virginia | 2001-2006 | Washington Wizards ("local" affiliate), Philadelphia 76ers, New Jersey Nets | Folded by league |
Champions
Edit
Note: In the 2001–2002 and 2002–2003 seasons, (and resuming with the 2007-08 season) the championship has been a best-of-three game series.
NBA Development League MVPs
Edit
See also
Edit
References
Edit
External links
Edit