This article related to Basketball is short. PLEASE do expand it!
Dwane Casey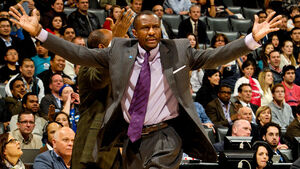 Casey sidlined during a Toronto Raptors game
Head coach
Personal information
Born                         April 17, 1957
                                  Morganfield, Kentucky
Nationality                 American
Physical stats
Listed height            6 ft 2 in (1.88 m)
Listed weight           195 lbs (88 kg)
Coaching information
Best record               57-25 (NBA) (2010-11)
Titles                           NBA: 1 (2010-11)
Coaching career       2005-present (13 years)
Player information
High school               Union County
                                    (Morgan Field, Kentucky)
College                        Kentucky (1975-1979)
Playing career           1975-1979 (4 years)
Career history
1994-2005                   Seattle SuperSonics (assistant)
2005-2006                   Minnesota Timberwolves
2008-2010                   Dallas Mavericks (assistant)
2012-2018               Toronto Raptors
Career highlights and awards
As a coach:
NBA champion (2011)
NBA Eastern Conference Coach of the Month (December 2013)

Dwane Casey (April 17, 1957) is an American basketball coach who was the former head coach for the Toronto Raptors of the NBA. As a player, Casey formerly played college basketball for the Kentucky Wildcats until he graduated in 1979.