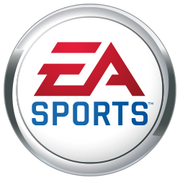 EA Sports is a brand name used by Electronic Arts to distribute games based on sports. Formerly a gimmick inside Electronic Arts sports games, that tried to mimic real-life sports networks, calling themselves "EA Sports Network" (EASN). It releases sports related games series including NBA Live series, Madden NFL series, NHL series, UFC and NASCAR.
EA Sports BIG
EA Sports Big was a brand name used by Electronic Arts from 2000 to 2008 to distribute casual and extreme sports games that featured non-realistic, arcade features similar to Midway Games' sports games. SSX was the first game to be published by EA Sports Big. EA Sports Big name and branding was conceived by Steven Rechtschaffner, the Executive Producer of SSX, SSX Tricky, SSX 3, and NBA Street Vol. 2. The EA Sports Big intro voice that boomed the word "Big" was voiced by human beatbox and former member of The Roots, Rahzel.
Discontinuation and EA Sports Freestyle
In May 2008, Electronic Arts announced a new publishing label for casual sports titles called EA Sports Freestyles, and they also announced that they would discontinue the EA Sports BIG label. Later games in a EA Sports BIG branded franchises such as FIFA Street and SSX (both released in 2012) were released under the regular EA Sports brand.
The EA Sports Freestyle brand was very short lived with only three games being published under the brand which were Celebrity Sports Showdown, FaceBreaker and 3 on 3 NHL Arcade. It was quietly discontinued without a formal announcement by Electronic Arts.
External links