Gilbert Arenas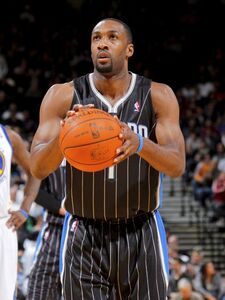 Arenas playing for the Magic.
No. 0 - Shanghai Sharks
Point Guard
Personal information
Born                           January 6, 1982
                                    Tampa, Florida
Nationality                 American
Listed height            6 ft 4 in (1.93 m)
Listed weight           215 lbs (98 kg)
Career information
High school             Grant High School
                                  (Los Angeles, California)
College                   Arizona (1999–2001)
NBA Draft                 2001 / Round: 2 / Pick: 30th
Selected by the Golden State Warriors
Pro career               2001-present (17 years)
Career history
2001–2003                Golden State Warriors
2003–2010                  Washington Wizards
2010–2011                   Orlando Magic
2012                             Memphis Grizzlies
2012–present             Shanghai Sharks
Career highlights and awards
3× NBA All-Star (2005–2007)
All-NBA Second Team (2007)
2× All-NBA Third Team (2005–2006)
NBA Most Improved Player (2003)
NBA Rookie Challenge MVP (2003)
All-Pac-10 First Team (2001)
Gilbert Jay Arenas, Jr. is an American Point Guard player who plays for the Shanghai Sharks for the Chinese Basketball Association. Arenas was drafted 30st overall in the 2nd round of the 2001 NBA Draft by the Golden State Warriors out of Arizona University. Arenas scores over 28 points per game and has over 9,000 career points. He scored a career high 60 points against the Los Angeles Lakers on December 17, 2006.