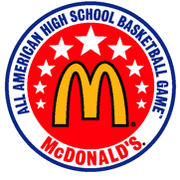 The
McDonald's All-American Game
refers to each of the all-star basketball games played each year for boys' and girls' high school basketball graduates. Consisting of the top
American
players, each team plays a single exhibition game after the conclusion of the high school basketball season in an East vs. West format. As part of the annual event, boys also compete in a slam dunk contest, a three-point shooting competition, and an overall timed skills competition. The girls compete in the three-point shooting competition and the overall skills competition. The boys game has been contested annually since 1978, and the girls game has been played each year since it was added in 2002.
External links
Ad blocker interference detected!
Wikia is a free-to-use site that makes money from advertising. We have a modified experience for viewers using ad blockers

Wikia is not accessible if you've made further modifications. Remove the custom ad blocker rule(s) and the page will load as expected.