Paul Arizin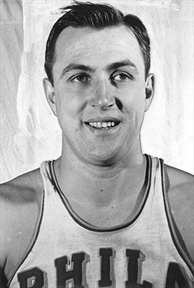 portrait of Arizin during playing career.
No. 11
Small forward
Personal information
Born                           April 9, 1928
                                   Philadelphia, Pennsylvania
Died                           December 12, 2006 (aged 78)
Nationality                 American
Listed height            6 ft 4 in (1.93 m)
Listed weight           190 lbs (86 kg)
Career information
High school             LaSalle College
                                  (Philadelphia, Pennsylvania)
College
Villanova
NBA Draft                 1950 / Territorial Pick
Selected by the Philadelphia Warriors
Playing career         1950-1962 (12 years)
Career history
1950-1962                Philadelphia Warriors
1962-1965                Camden Bullets (EPBL)
Career highlights and awards
Paul Joseph Arizin was an American retired professional basketball player and Basketball Hall of Famer. He was inducted in 1978.
This article related to Basketball is short. PLEASE do expand it!
Ad blocker interference detected!
Wikia is a free-to-use site that makes money from advertising. We have a modified experience for viewers using ad blockers

Wikia is not accessible if you've made further modifications. Remove the custom ad blocker rule(s) and the page will load as expected.