Rocky Mountain Athletic Conference
Talk

0
[[Image:{{{logo}}}|175px]]
Pages related to the Rocky Mountain Athletic Conference
Men
Women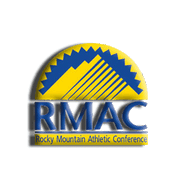 The Rocky Mountain Athletic Conference is a conference participating in the NCAA's Division II. It was founded in 1909 as the Colorado Faculty Athletic Conference and has had a very convoluted membership history.
From 1972 to 1975, the conference experimented with a two-conference umbrella organization, the Mountain and Plains Intercollegiate Athletic Association. In 1967, the RMAC split into two divisions, the Mountain Division and the Plains Division. In 1972, the divisions were re-incorporated as separate conferences, the former retaining the RMAC name and the latter calling itself the Great Plains Athletic Conference:
Rocky Mountain Athletic Conference
Great Plains Athletic Conference
Adams State
Colorado Mines
Fort Lewis
Regis
Southern Utah
Western New Mexico
Western State
Westminster (UT)
Colorado State - Pueblo
Emporia State
Fort Hays State
Nebraska - Omaha
Northern Colorado
Pittsburg State
Washburn

When the MPIAA dissolved in 1976 due to financial difficulties, CSU-Pueblo transferred to the RMAC, Northern Colorado became an independent, and the two conferences terminated their formal association.
Current members
East Division
West Division
Former members
External Links